Mobile Services Offered by Technowebs
Our team provides a range of mobile services, including app development, mobile web development, and mobile marketing. An expert team of Technowebs uses cutting-edge technology to ensure both functionality and visually appealing. Additionally, we offer comprehensive support and maintenance services to ensure the longevity and success of our mobile projects.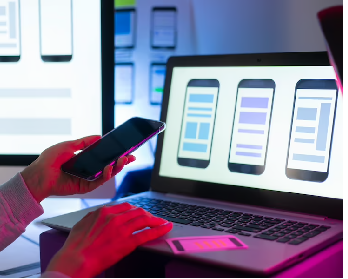 Mobile Application
Technowebs has achieved great success in delivering top-notch mobile application services to clients, resulting in high user engagement and satisfaction. Our innovative and reliable app solutions have helped businesses grow and succeed in the competitive digital landscape.
100+
Our team has successfully developed over 100 mobile applications, showcasing our expertise and experience in the field of mobile app development.
100%
Technowebs takes pride in achieving a 100% completion rate for all mobile application development projects.
Success in Delivering Top-notch Mobile Application Services
Technowebs has gained great success in delivering innovative and reliable mobile application services to clients, resulting in high user engagement and satisfaction. Through our working process, we ensure that our clients receive high-quality mobile applications that meet their business needs and provide a great user experience.
Our team thoroughly understands the client's requirements and goals for the app and conducts research to determine the target audience and market competition.
Requirement Gathering
We create a detailed plan and strategy for the project, which includes selecting the right technology stack, development approach, and timeline.
Planning and Strategy
Technowebs' creates wireframes and prototypes to outline app functionality and user experience. Once confirmed, the team develops mobile applications accordingly.
Design and Development
Before releasing the app, we conduct comprehensive testing to ensure it is bug-free, secure, and runs smoothly across different devices and operating systems.
Testing and Deployment
Why Choose Technowebs for Mobile Application Services
Let's get in touch
CONTACT US
Send Message
Fields marked with an * are required