Enhance Your Brand Image with Technowebs Professional Graphic Design Services
Technowebs provides high-quality graphic design services to businesses of all sizes. Our experienced team of designers works closely with our clients to understand their unique needs and vision, and delivers custom designs that capture their brand identity and effectively communicate their message. We use the latest design software and tools to create visually appealing and engaging designs that leave a lasting impression on your audience. From logos and branding to web design and marketing materials, we have the expertise to bring your design ideas to life.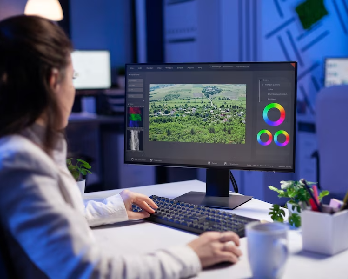 Graphic Design
Technowebs has come a long way since its inception, with a successful journey marked by constant innovation, a customer-centric approach, and a dedication to delivering exceptional digital solutions to clients around the world.
300+
At Technowebs, we take pride in our successful track record of completing over 300 graphic design projects for satisfied clients.
100%
Achieving 100% customer satisfaction is a testament to the quality of service provided by Technowebs. We place a high value on our customers' needs and go above and beyond to ensure their satisfaction.
Technowebs' Process for Providing Graphic Design Services
Our expert graphic designers use the latest design software and techniques to create visually stunning designs that accurately represent the client's brand and message. With a focus on communication and collaboration with the client, Technowebs ensures that the final product meets and exceeds the client's expectations.
Our team of graphic designers conducts thorough research to understand your brand's visual identity and develop concepts that align with your vision.
Research and Concept Development
Once the concept is finalized, our designers use industry-standard software to bring your design to life, ensuring that it is visually appealing, functional, and aligns with your brand's messaging.
Design Creation
We provide multiple design concepts for you to choose from and welcome your feedback. We revise the design as per your feedback until you are satisfied.
Review and Revisions
Once the design is approved, we provide the final files in various formats to suit your needs, ensuring that you have all the necessary files to use the design effectively.
Delivery
Why Technowebs is the Best Choice for Your Graphic Design Needs
Let's get in touch
CONTACT US
Send Message
Fields marked with an * are required