Alternative Custom Software Services for Your Business Growth
At Technowebs, we understand that every business has unique needs and requirements, which is why we offer customized software development solutions tailored to our clients specific needs. Our team of experts works closely with our clients to understand their business goals and objectives and then creates customized software solutions that help them achieve those goals efficiently and effectively. With our custom software development services, businesses can streamline their processes, improve their workflows, and stay ahead of the competition.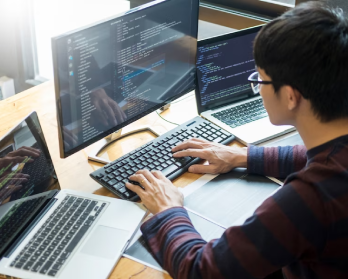 Custom Software
Our custom software development services are designed to meet the unique needs and requirements of our clients. Our team of experts works closely with clients to ensure high-quality and efficient software solutions that drive business growth and success.
300+
Technowebs has successfully developed 300+ custom software solutions for businesses across various industries, helping them optimize their operations and achieve their goals.
100%
Our success rate in delivering custom software solutions stands at an impressive 100%.
Process for Creating Custom Software
Technowebs creates custom software by understanding clients' specific requirements, developing a plan of action, and using the latest technologies and development practices to create reliable and effective software solutions.
Our team of experts gathers and analyzes the client's requirements to identify the objectives, challenges, and constraints of the project.
Requirement Gathering
Based on the needs, our team create wireframes and prototypes to give an idea of the software's functionality layout, and user experience.
Design and Prototyping
Developers start coding after design approval and thorough testing is conducted to ensure the software fulfills client requirements.
Development and Testing
We assist our clients in deploying the software and provide ongoing maintenance and support to ensure its smooth operation.
Deployment and Maintenance
Why Choose Technowebs for Custom Software Development?
Let's get in touch
CONTACT US
Send Message
Fields marked with an * are required